Rakhi Gift Hamper for Brother
Regular price

Sale price

Rs. 2,100
Rakhi Gift Hamper for Brother Includes:

Best Brother Frame
Zara Perfume - Men
Country Bean Coffee Jar
Dark chocolate energy balls
Rakhi

Roli Chawal
Gift Box

Greeting card of your choice
Please mention any name personalization or customisation requirement while checking out. For any other queries drop us a message on Whatsapp, link can be found on the bottom right corner.
The box is of dimension 26 x 21 x 11 cm. We would love it if you reuse the box! 
Gifting Recommendation
The Perfect Gift for Brother for Raksha Bandhan to celebrate the profound relationship between brother and sister
Why is Rakhi Gift Hamper for Brother the perfect gift for your brother?
Our Rakhi Gift hamper for Brother is a celebration of everything that makes a brother special. It's a tribute to his unconditional love, unwavering support, and countless moments of joy and laughter shared together. 
Our hamper's centerpiece is the "Best Brother Frame." This wonderfully constructed frame is more than simply a decorative piece; it captures your feelings for your brother. 
To complement this heartfelt gesture, we have included the irresistible fragrance of Zara Perfume - Men.
For the brother who enjoys a good cup of coffee, we have included a Country Bean Coffee Jar. Bursting with flavors, this premium coffee will awaken his senses and provide a refreshing start to his day.
We recognize that indulging is a universal pleasure, so we've included Dark Chocolate Energy Balls in our hamper. These delicious treats will provide him with an instant energy boost, making them an ideal companion for his hectic days.
No Raksha Bandhan celebration is complete without a traditional rakhi and roli chawal. Our hamper includes a beautiful rakhi, symbolizing the sacred bond between siblings, and the essential roli chawal for the traditional ceremony. 
With our "Rakhi Gift Hamper for Brother," you can express your love, gratitude, and admiration for your brother in the most meaningful way.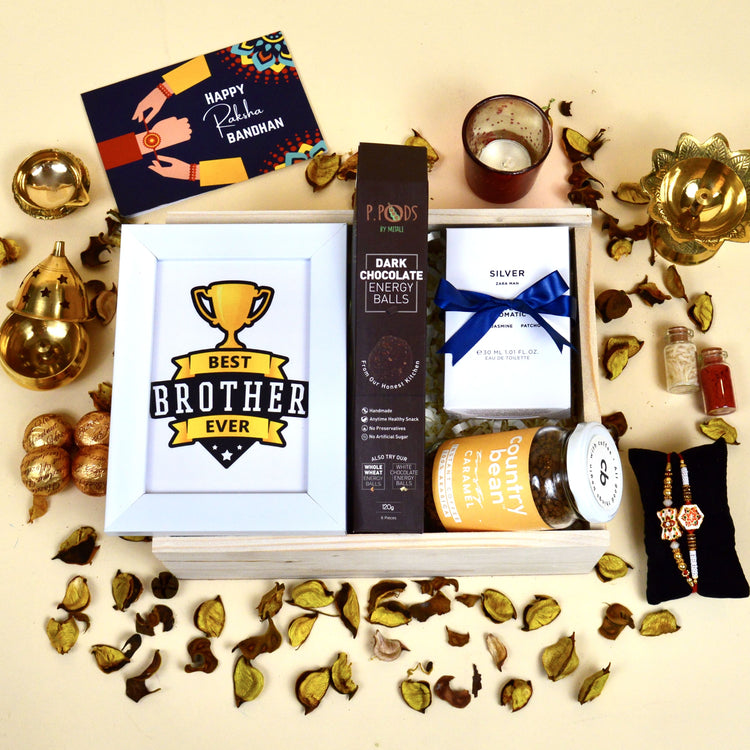 Corporate diwali gifts in gurgaon
Looking for Exclusive Corporate Diwali Gifts in Gurgaon?
Diwali, the festival of lights, is just around the corner, and it's the perfect time to express your appreciation to your valued employees, clients, and partners. Make this Diwali memorable with exclusive Corporate Diwali Gifts in Gurgaon that leave a lasting impression.
At Between Boxes Gifting Solutions, we understand the importance of thoughtful gifting in the corporate world. That's why we offer a curated selection of Diwali gift options that reflect your company's appreciation and strengthen your business relationships.
Why Choose Us for Corporate Diwali Gifts in Gurgaon?
Exquisite Range: Our extensive range of Diwali gifts includes traditional and contemporary options to suit every taste and preference. From luxurious gift hampers to personalized tokens of gratitude, we have it all.
Quality Assurance: We source only the finest products and materials to ensure the quality and elegance of our gifts. Your recipients will be delighted with the craftsmanship and attention to detail.
Customization: Personalization is key to making your corporate Diwali gifts stand out. We offer customization options to add your company logo, branding, or personalized messages to the gifts.
Timely Delivery: We understand the importance of punctuality in corporate gifting. Our prompt delivery service ensures that your Diwali gifts reach your recipients in Gurgaon on time, every time.
Local Presence: Being based in Gurgaon, we have a deep understanding of the local culture and preferences. This allows us to create gifts that resonate with your recipients in the region.
How to Order Corporate Diwali Gifts in Gurgaon
Ordering your corporate Diwali gifts from us is simple and hassle-free:
Browse our online catalog and choose the perfect gifts for your recipients.
Customize the gifts with your branding or personalized messages.
Place your order securely through our website.
Relax, knowing that your thoughtful Diwali gifts are in capable hands.
Make this Diwali a celebration of gratitude, unity, and prosperity with Corporate Diwali Gifts in Gurgaon from Between Boxes. Strengthen your business relationships and spread the festive spirit with gifts that truly matter.
Contact Us Today for Diwali Gifts in Gurgaon
Ready to place your order or have questions? Feel free to contact our dedicated team at info@betweenboxes.in. We're here to assist you in making this Diwali season a memorable one for your business.