Bride-to-be Gift Hamper
Regular price

Sale price

Rs. 2,000
Have a bride to be in your family or group of friends? This gift box is made to be as adorable as the bride-to-be! We provide a variety of useful products for the bride that can make her day very special. It is a great way to celebrate her upcoming wedding.
Includes:
Bride Socks
The Bodyshop Shower Gel
Nykaa Lip Balm
Face Sheetmask
Pearl Hairpins
Satin scrunchie
Gift Box
Greeting card of your choice
Please mention any name personalization or customisation requirement while checking out. For any other queries drop us a message on Whatsapp, link can be found on the bottom right corner.
The box is of dimension 26 x 21 x 11 cm. We would love it if you reuse the box!
Gifting Suggestions :
Our "Bride to be gift hamper" is the ultimate wedding gift for every upcoming bride from her friends. This gift basket is sure to make her feel unique and appreciated because it contains everything she needs to rest and relax before and after the big day. Additionally, our hampers make great wedding gifts for the bride from the groom.
Why is "Bride To Be Gift Hamper" the perfect gift hamper for a bride?
Are you searching for the ideal bridal gift ideas to celebrate a new bride? Look no further than our meticulously crafted 'Bride to Be Gift Hamper.' This exquisite collection of handpicked items is designed to shower the bride with love, luxury, and self-care during this momentous time. Our 'Bride to Be Gift Hamper' includes a pair of charming bride-themed socks that are not just a fun accessory; they symbolize the beginning of a new journey and the excitement of stepping into a lifelong commitment. Our gift hamper features The Bodyshop Shower Gel, known for its aromatic lather. It will uplift her spirits and help her unwind amidst wedding preparations, allowing her to enjoy moments of tranquility before the big day. Our Bride-to-be gift hamper also includes a Nykaa Lip Balm, a beauty essential that will keep her lips soft, supple, and ready for countless kisses. Preparing for a wedding can be both thrilling and stressful. A soothing face sheet mask provides the perfect opportunity for the bride to indulge in a relaxing self-care session. A set of pearl hairpins is a classic accessory that will add a touch of glamour to her bridal hairstyle. Our gift hamper features a satin scrunchie, a luxurious accessory that will keep her tresses secure while adding a touch of elegance.
Show her how much she means to you by presenting her with this unforgettable gift, and watch her radiate joy and beauty on her special day. Shop now and make the bride's dreams come true with our exquisite 'Bride to Be Gift Hamper.'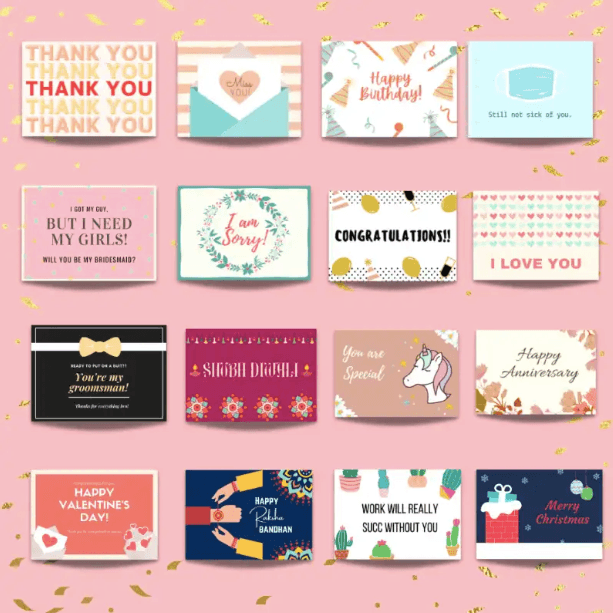 Corporate diwali gifts in gurgaon
Looking for Exclusive Corporate Diwali Gifts in Gurgaon?
Diwali, the festival of lights, is just around the corner, and it's the perfect time to express your appreciation to your valued employees, clients, and partners. Make this Diwali memorable with exclusive Corporate Diwali Gifts in Gurgaon that leave a lasting impression.
At Between Boxes Gifting Solutions, we understand the importance of thoughtful gifting in the corporate world. That's why we offer a curated selection of Diwali gift options that reflect your company's appreciation and strengthen your business relationships.
Why Choose Us for Corporate Diwali Gifts in Gurgaon?
Exquisite Range: Our extensive range of Diwali gifts includes traditional and contemporary options to suit every taste and preference. From luxurious gift hampers to personalized tokens of gratitude, we have it all.
Quality Assurance: We source only the finest products and materials to ensure the quality and elegance of our gifts. Your recipients will be delighted with the craftsmanship and attention to detail.
Customization: Personalization is key to making your corporate Diwali gifts stand out. We offer customization options to add your company logo, branding, or personalized messages to the gifts.
Timely Delivery: We understand the importance of punctuality in corporate gifting. Our prompt delivery service ensures that your Diwali gifts reach your recipients in Gurgaon on time, every time.
Local Presence: Being based in Gurgaon, we have a deep understanding of the local culture and preferences. This allows us to create gifts that resonate with your recipients in the region.
How to Order Corporate Diwali Gifts in Gurgaon
Ordering your corporate Diwali gifts from us is simple and hassle-free:
Browse our online catalog and choose the perfect gifts for your recipients.
Customize the gifts with your branding or personalized messages.
Place your order securely through our website.
Relax, knowing that your thoughtful Diwali gifts are in capable hands.
Make this Diwali a celebration of gratitude, unity, and prosperity with Corporate Diwali Gifts in Gurgaon from Between Boxes. Strengthen your business relationships and spread the festive spirit with gifts that truly matter.
Contact Us Today for Diwali Gifts in Gurgaon
Ready to place your order or have questions? Feel free to contact our dedicated team at info@betweenboxes.in. We're here to assist you in making this Diwali season a memorable one for your business.